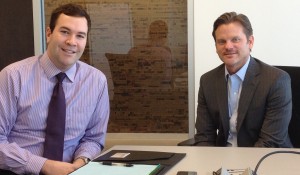 We recently had a chance to sit down with Kevin Pitts, publisher of the Charlotte Business Journal. The focus was to get a better understanding of their awards programs: Advanced Manufacturing, 40 Under 40, Women in Business, Business Person of the Year, CIO of the Year, CFO of the Year and Healthiest Employer of the Year.
Thank you for meeting with us, Kevin. What is the CBJ's goal when doing awards?
We want to be the provider of the most credible recognition. We want business people to think, "Of all the awards I qualify for in Charlotte, this is the one I want!" We also want to paint a picture of what success looks like, and share best practices.
I noticed that different programs require different selection processes. Tell us the reasoning for that. 
You're correct. All have different models. For example, 40 Under 40 and Women In Business are nomination driven. We crowd source nominations, then our newsroom will pull together all of that information and research, boil down and select the winners.
We do partner with a third party research company for programs like Best Places to Work. They develop a workplace engagement survey each year that measures employment engagement, then it goes through a modeling process, gives a score and ranks and indexes versus the best-of-best throughout the country. It's not just local- that way we know where we compare on a national level.
The Advanced Manufacturing Awards are handled by an industry-specific judging panel in the area, who really focus on what the nominees have done to advance manufacturing in our region.
Lastly, we may partner with industry associations to help us make our selections for programs like CIO and CFO of The Year.
Tell us what's most important when nominating someone. Also, what about the number of nominations a person receives? 
It really comes down to the quality of the nomination. The thing we look at first and foremost is business accomplishments and contributions they've made to the business community. That's it — that's king — the main focus of all programs. It's not a matter of how long the nomination is, how many nominations or how influential the nominator is. Your nomination should explain very clearly which business accomplishments are germane to the particular awards program. Don't get me wrong, multiple nominations are fine, but make sure it adds context and a different perspective. If each brings something different to the table, then that's great.
Can you give us some Do's and Don'ts?
Skip the fluff! Any accomplishments that can be quantified, such as sales and growth, really strengthen the individual's case. Also, you'll typically need to be in Charlotte for a reasonable period of time- at least 2-3 years.  Remember, business accomplishments are what this truly boils down to. The community involvement piece is important, but don't forget about industry associations, and how the nominee works to advance their industry. There's a lot of wonderful people out there but, it's not a popularity contest.
Does Size of the organization matter?
Irrelevant. If you look at our class each year you'll see a good mix. I love to see nominations from entrepreneurs and small businesses.
Any final thoughts?
I like a good party! Every company has a personality. When it comes to marketing, I'll over simplify it by saying print is about reputation management, digital is transactional and events are about who you are and engaging with others. These types of events and recognitions humanize companies and their people.