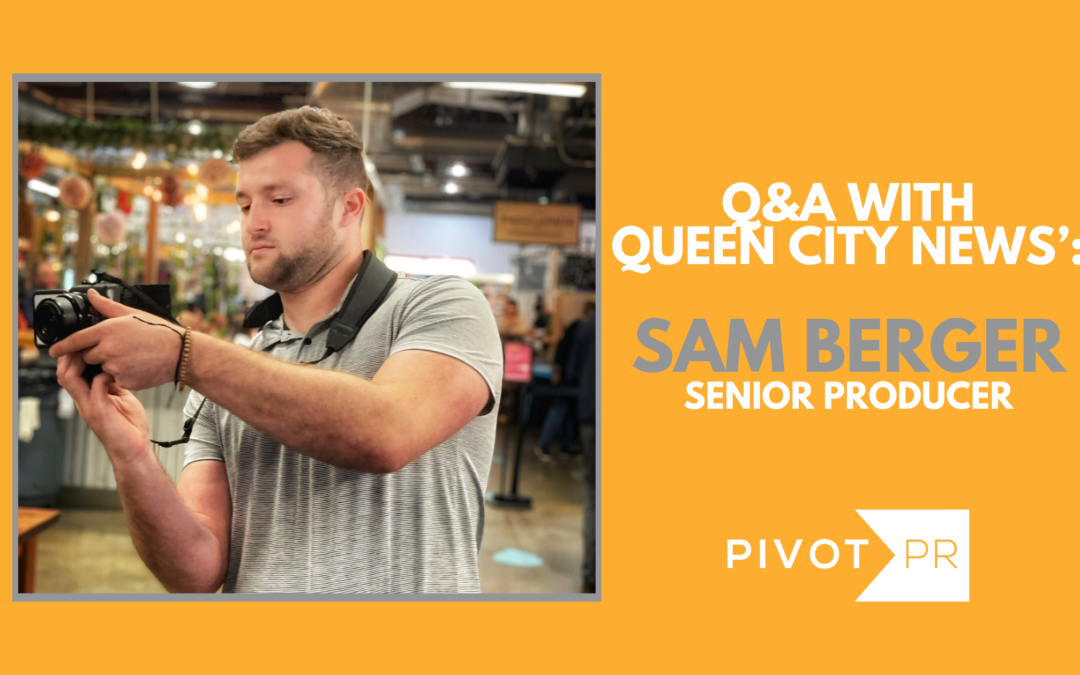 What is your name and where are you from?  
My name is Samuel Berger, and I'm a Long Island native who found his way to the Queen City.  
How did you end up in Charlotte?  
I went to school at SUNY Geneseo and studied communication and political science. Honestly, I did not think broadcast news was where I would find my calling. Aside from eating great food, including some of the best wings ever, I spent my time beat reporting on the Buffalo Bills, or working for government officials. From there I went to Rochester, where I worked at Spectrum News and WHEC, surviving Rochester winters like a champ. If you can handle lake-effect snow, you can handle anything, right? 
After that, Kansas City became my home for three years. I was the lead morning show producer and the producer behind the Kansas City Chiefs' pre-game festivities for the CBS affiliate. That included a highlight of my career, producing a Super Bowl pre-game show with my best friend serving as host, it doesn't get better than that. 
Now, here I am in Charlotte, serving as the Senior Producer at Queen City News. In the Queen City I have truly gotten the best of both worlds: being back near the coast and in a bustling news environment. With Charlotte continuing to grow, no two days are ever alike. 
What made you interested in journalism?   
That's an easy question; I have always been interested in people. I believe everyone has a story, and those stories are what make us unique. Through journalism, I have the ability to tell those stories and shine a light on the people that make our communities what they are. It's that ability to make a difference that drives me. 
Each and every day as a journalist, you start with a blank slate, a story, and a deadline, and it's up to you to make it work, make it interesting, and make a difference. 
What kind of news do you find most interesting to report on?   
I have a keen interest in human interest stories—they have this incredible ability to connect people on a personal level. Whether it's exploring unique life experiences, triumphs, or challenges, these stories showcase the diversity of a person. If I can do so through a vehicle like food or sports, both things I am passionate about, it allows me to buy-in that much more. 
I am also drawn to complicated issues that deserve a breakdown. There's a sense of satisfaction in unraveling complex subjects and presenting them in a way that resonates with viewers. At the end of the day it is making sure the viewer gets the information they need and answers to questions. When I can put a challenging subject in layman's terms and make it digestible for everyone I feel as if I provided a valuable service. 
What is the most valuable lesson you have learned so far while working in the journalism industry?   
The most valuable lesson I've learned while working in the journalism industry is the importance of connections and teamwork. The people you meet and collaborate with are instrumental to success. While I may excel in writing and producing a show, the collaborative effort of editors, directors, anchors, reporters, and the entire newsroom is essential. In other words, the strength of the team directly correlates with the quality of the final product. In journalism, it's not just about individual skills; it's about the collective synergy that brings stories to life and delivers impactful content to our audience. 
Where do you see yourself in five years?   
I envision myself leading a team of creatives in the dynamic world of media. As my longtime news director wisely puts it, I aim to "do interesting stuff" — engaging in innovative and impactful storytelling that captures the audience's attention. My goal is to make a difference through the stories I tell, ensuring that I am contributing to narratives that truly deserve to be shared. I see myself at the forefront of meaningful projects, utilizing my skills to not only inform but also captivate and connect with viewers on a deeper level. 
How can PR pros like us work better with local media? 
PR professionals can foster stronger collaboration with local media by immersing themselves in the nuances of a newsroom. Understanding the delicate balance and synergies at play within a news environment is key. By gaining insight into the intricacies of how everything functions together, PR pros can tailor their pitches to align seamlessly with the preferences and requirements of local media. 
Moreover, a deep understanding of the angles and story elements needed by local media. This not only gives PR professionals a leg up in effectively communicating their messages but also assists local media outlets in producing compelling and relevant stories.