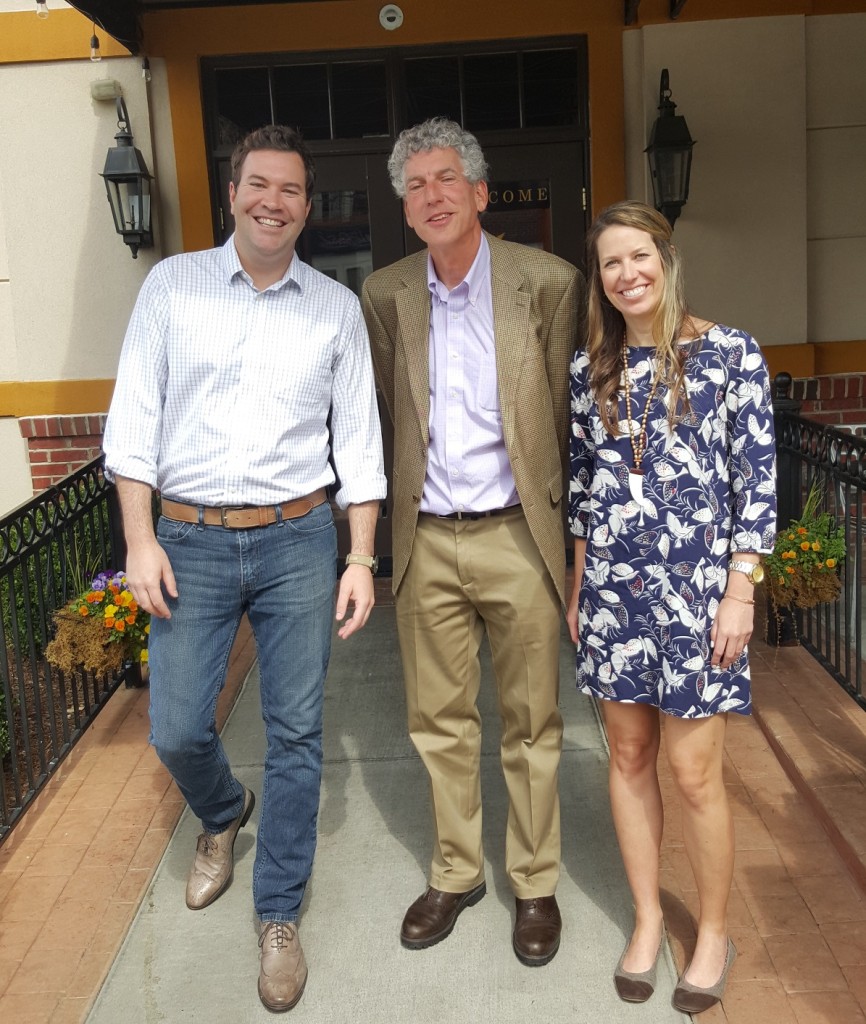 Editor of Business North Carolina, David Mildenberg, was kind enough to sit down with Trisha and me to discuss the Charlotte-based magazine, the journalist-marketer relationship and how he sees the news industry evolving. Since you're in Charlotte and may have some interest in landing your organization in Business North Carolina, we thought you'd be interested in our Q&A below…
Q: Hey David! Tell us about Business North Carolina.
A: Nobody else does what we do. Our job is to explore what's happening in our state, focusing on people and companies from small towns to big cities. That sets us apart from the magazines that cover business from a national or international perspective. And it separates us from local newspapers and business journals. Our job is to produce quality, in-depth journalism; dig into stories behind the news; then deliver what we uncover in a manner that, though at times may be provocative, is always fair, accurate and thorough. Unlike some business magazines, we do not speak for any special-interest group or espouse a specific viewpoint. Our job is to reflect reality and, in doing so, entertain and enlighten our readers. On the business side, we are owned by a holding company based in Southern Pines that operates The Pilot newspaper there and monthly magazines in Greensboro, Wilmington and Southern Pines.
Q: Exactly. I certainly think you do a great job in going deeper and giving your readers the whole story.
A: That's certainly our model. We try to go deeper than everyone else. We also think it's very important to put context around and understand the history of something to truly make it interesting. There are a lot of folks who care about, and are passionate about North Carolina.
Q: Your readers primarily consume your stories via print, correct? Talk to us about your print/online strategy.
A: It's true; thankfully, many do read print still. Some even prefer it over squinting at a phone or screen. Of course you can find our stories on our website and we just started DevelopCLT.com, a weekly newsletter about the Charlotte area's commercial real estate industry. We want to write blogs and stories that provide a broader view of issues and the people active in CRE. That industry is really misunderstood. It's such a large and important part of what's going on in our state. I hope your readers will sign up for the free newsletter.
Q: How do you keep your finger on the pulse of so much news happening in the state?
A: We read as much as possible, but we also travel quite a bit meeting with interesting folks all around the state. The issues in Raleigh and Greenville, where individuals may be more interested in politics and have ties to Virginia, are so much different than what's going on in cities like Greensboro and Charlotte.
Q: What does your staff look like?
A: We really have an amazing editorial team. We've got two great editors in Allison Williams and Cathy Martin and a veteran art and production director, Moira Johnson, who has been part of BNC for many years. We also rely on freelancers around the state, mostly notably Ed Martin, an award-winning journalist who has focused on the issues of our state for years.
Q: Tell us about your interaction with marketing and PR folks.
A: I sure have had a lot in my past! We're really looking for great ideas. It's important to understand the mission of our publication and present great hooks. I don't believe in the antagonistic attitude where some editors won't even take calls. There's a place for both of us, and, there are fewer journalists these days which is all the more reason to work with communication folks.
A huge thank you to David for speaking with us! You can find Business North Carolina's media kit here and you're welcome to pitch him at dmildenberg@businessnc.com.