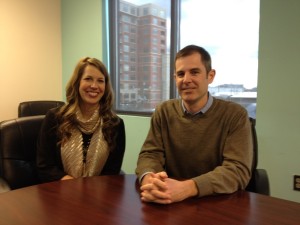 Thanks for meeting with us, Rick! So you've been with Charlotte magazine since 1995. Tell us about your journey to publisher. At that point we were more or less a new magazine. We had just purchased the name Charlotte magazine and that was pretty much it – we started over from scratch. Essentially, I was the guy that did the stuff that needed to be done. I went from editorial assistant to assistant editor to associate editor all before first issue. I was on the editorial side for 18 years—15 as editor—before moving to publisher in January 2013.
Do you like editorial or publishing better? They are very different and I enjoy them both.  It's pretty rare to go into the business side with that much experience in editorial. The role is usually filled from the sales side. When the opportunity was presented to me, I asked a colleague at another city magazine (who had gone from editor to publisher) and he said, "It's all one hat. Just think about the long term vision of the magazine."
What is your long term vision for the magazine?  We will continue to find ways to grow and connect with our audience, and continue to do what we do, but do it even better. It's important for us to have a direct relationship with our audience and cultivate it through storytelling. From an advertising perspective, we're selling exclusive access to our audience, and it's exciting because some of those opportunities don't even exist yet. Just think about what we're doing now that didn't even exist five years ago. The important thing for us to always keep in mind is why we're doing it in the first place.
How have things changed given the technology and social media aspect of publishing? We're doing a whole lot more, and we're doing it faster. Even three years ago all you could really do was buy an ad. Now you can sponsor an event, sponsor our newsletter, advertise on our website, create a social campaign, etc. There are a lot of different ways to connect with people. All are content-based but each has to be rooted in connecting with our audience so we ensure we're serving the reader.
We were an early adopter of Twitter. Events have become popular. Our Best of the Best (BOB Awards) event has grown by 100 people each year over the past several years – 750 came last year. The Charlottean of the Year Award (which debuted in December 2014) came out of editorial. We did it because we saw a need to recognize the people that are making our city better, and we thought the city magazine should be the one to do it. We solicited nominations from the community and from community leaders then our editorial board made the final decision.
Tell us a little more about earned media opportunities available? I'll be honest, when I was editor, a PR person said to me once, "You're the hardest publication in the state to get into." I took that as compliment. We work so hard to service our readers. We're a monthly so there's not a lot of space, and it's not all that often a press release finds its way in our magazine. However, for example, if we're doing a story on hamburgers and we receive a press release about a new restaurant specializing in burgers, it makes us aware and that restaurant may get included.
Securing placement in our magazine really takes an understanding of what we're trying to do, who we're trying to reach and the exact type of story we're looking for. It's helpful if someone external provides a different angle to an existing trend we're covering. That's because we really try to do stories that nobody else is doing and we don't typically cover something that's already been covered.
Understanding you're a long lead magazine, how far out are you planning? Our April issue is going to print now and it was fully assigned 3-4 weeks ago. A lot of our features and longer pieces are over four months out. Our covers, at least the concepts, have been decided over a year in advance.
What about your blogs? Is there an opportunity to cover things you wouldn't in print? Do they provide an opportunity to cover stories faster? Yes; our blogs are becoming more of the place where we can get out in front of things and be the first with news. Our bloggers get direct pitches. They are looking for content more often, but we make sure they're quality. We try to take the time to interview folks and come up with interesting and unique angles. Those blog posts are the ones that get the most traffic.
Do you feel like you have competition? That depends on if you ask account reps or editorial staff! When you think about it, we're really just competing for people's time. We do things that no one else is doing, or in a very different manner, so we're not worried as much about what our competition might do. We just do what we do.
Your mantra is connecting with readers so if you had one thing to tell them what would it be? We're trying to create a great magazine experience. You will find things in our pages you won't find anywhere else – online, social and print. Our stories are as good as or better than anything you'll read in the country. That's why they get picked up and shared nationally through publications like the New York Times and BuzzFeed.