I recently sat down with editor-in-chief Scott Jensen to learn more about his media company, Charlotte Stories.
Q: Hi Scott! Tell us a little about Charlotte Stories.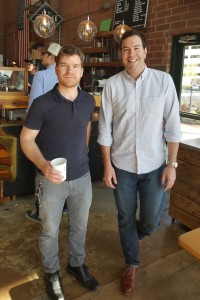 A: We're a daily newsletter that focuses on local news. We've got 13,000 email subscribers, several social media outlets specific to Charlotte areas (Charlotte, Lake
Norman, Concord, Rock Hill, Huntersville and Gastonia) and we average nearly 25,000 views on our website a day. Our audience is comprised primarily of late 20s and 30s business professionals in Charlotte, but we're expanding that. We want to be more diverse and reach other groups such as the refugee, music and African-American communities.
Q: Interesting. How did you get into the business?
A: It all started years ago when I was building Facebook pages that were branded for different cities. I had 60+ at one point, then I started Global Flare, similar to BuzzFeed but for local news. It was a lot to juggle and realized I really should start focusing on Charlotte. I started looking at domain names and found Charlotte Stories and I knew that was the perfect name.
Q: What makes Charlotte Stories different from its competitors?
A: There is a lot, but generally speaking some of the others do more features and we cover more hard news. We're also more inclusive to several types of news, and surrounding areas, where competitors feel  more narrower and blog-ish. We also put more of an emphasis on video, and I'd like to do more events.
We really take into account what people want and what is trending. We make a conscious effort to understand our audience and bring them interesting and different news they wouldn't find elsewhere.
Q: What was the biggest story you broke?
A: Do you remember the post Super Bowl interview with Cam Newton and how a Bronco player was whispering in his ear behind the curtain? That was us — 3.3 million views in under two days! I knew there was a story behind that story and that Charlotte needed to hear it, so I started doing some research online and found a video of what another Panthers player had posted via Twitter.
Q: Do you work with many PR folks on the "earned" side? What about advertising?
A: We love to work with PR folks and encourage them to pitch us fun and different types of stories. We've got a handful of advertisers now but we're looking to add the right partners. Everyone has their own unique needs and, if interested, I'd encourage them to reach out to me directly.
Q: Tell our readers something interesting about yourself.
A: I'm a licensed real estate agent and I earned my undergraduate degree in pastoral ministries.
Q: Where do you see Charlotte Stories in three years?
A: I'd like to take over news in Charlotte! I want to rebrand our city and help it find its identity.
You can contact Scott at scott@charlottestories.com. Introduce yourself and tell him Drew at Pivot PR sent you!