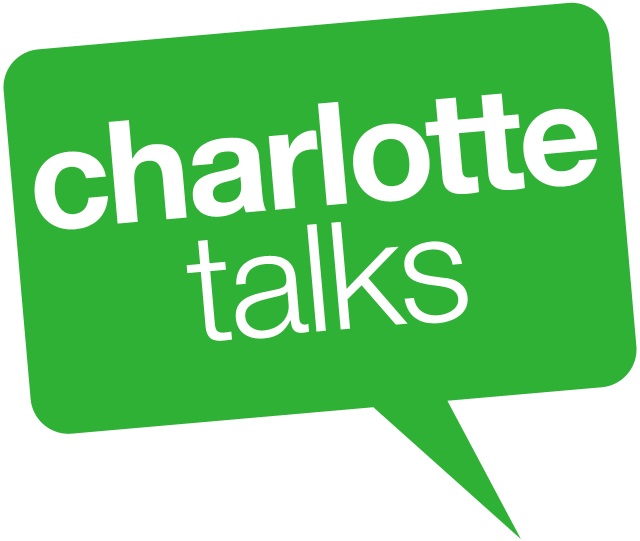 Since 1998, Charlotte Talks, WFAE 90.7's daily signature talk show that's hosted by Mike Collins, has provided our city with important community-focused discussions and stories. We recently sat down with Charlotte Talks' Executive Producer, Wendy Herkey, to learn more about the show and how it's adapted to the ever-changing radio industry over the years.
Tell us about your tenure with WFAE.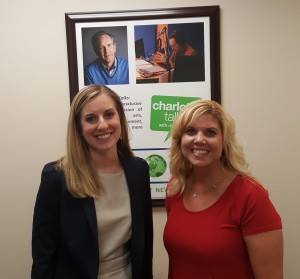 When I first started at WFAE I was in the membership department, but my background was in broadcasting and promotions. I was a communications major and English minor, so for me, my first job was a way to get my foot in the door. A production position opened up, and part of that job was to work with Charlotte Talks, helping out with some of the technical work and filling in for the producer. When the producer left, I began filling in as producer, and eventually got the job permanently. That was about 17 years ago. Now, our staff includes two other producers, Erin Keever and Chris Miller, as well as our production assistant, Jennifer Worsham.
How do you find guests for the show?
For the most part, we're watching to see what's happening in Charlotte and what issues are important to people in the listening area. We also receive information via email about
interesting people coming to town, or intriguing angles on topics to discuss. We cover politics, newsmakers, science topics, health, arts, business and movements in different industries. We try to be as timely as possible because our listeners want to be informed and up-to-date. We sometimes have panels of guests, and sometimes just one guest… and sometimes we switch guests out in each segment. We also have a rotating group of standing guests for our weekly news roundup.
Tell us more about the news roundup.
It's our newest series on Charlotte Talks. We started it in February, and it's now our top show of the week. A rotating panel of reporters come on every week, which includes our very own Tom Bullock, Eric Frazier from The Charlotte Observer and other reporters from local TV and newspaper publications. Because it's our most popular show, we have started to occasionally take it on the road. We've been to The Observer so far, and have some ideas on future locations, but we are looking for different places around town where people can come out and watch.
How will WFAE continue to evolve as broadcast radio changes?
With all of the other options people have to get radio, it's really important to keep everything local. They can't get Charlotte Talks anywhere else besides WFAE (or at WFAE.org, or via our Charlotte Talks podcast). And, there's generally a local connection in everything we do. A lot of listeners who are newcomers tell us that WFAE and Charlotte Talks is how they learn about their city. We also use different ways to reach our listeners. Many listeners use social media and apps. We have a WFAE app and many people find us that way. Charlotte Talks has a large podcast audience that gets the show every week.
How would a pitch stand out in your inbox?
Because of our deadline structure, there are some days where I don't have much time to look at pitches. Because of the amount of email we get, it can take a while for me to consider a topic, so if it's a timely pitch, I definitely don't mind if people follow up with me. They can get to all three of us through our show email. The pitch needs to fit the mission of our show, and we are looking for what's interesting for our listeners. There are some people who come to us with someone in mind that they would like to push forward, but they add other panelists to the pitch to make it broader. That gives us more to dig into. We have 48 minutes we have to fill. It hurts the idea of getting on the show if we don't have a deep, relevant story.
How far in advance do you plan your shows?
There's really no one answer to that! The news roundup happens every Friday, so we have Fridays taken care of. Some of the shows we schedule a month out because we know an expert or author is coming to Charlotte. Sometimes it's a week or a few days ahead of time, depending on what the show is and whether we have openings.
Anything else you'd like to share?
I hope your readers listen! Whenever they tell us they've tuned into our show and thought it was helpful to them, that's the biggest compliment we can get.
Thank you Wendy Herkey for sitting down with us and sharing more about Charlotte Talks! You may reach Wendy and her team by emailing [email protected].